Post Classifieds
Beauty Hacks: 10 Crucial Beauty Tips
Here are 10 beauty secrets no one ever explained to you that can save both time and money.

1. White eyeliner is a must. No one ever really explains how to create the perfect smokey eye or even the best natural look. Here is a secret though: white eyeliner is the cure for those dark circles under the eye.
2. Moisturizer can be the key to foundation too dark. We have all made the mistake of purchasing make-up one shade too dark or even running out of our winter shade, having to resort to our summer make-up. There is a cure for this though, moisturizer. Just add moisturizer until the shade is to your liking.
 3. Add contact solution to your mascara. When your eye make-up is starting to clump straight from the bottle, add some  contact solution. Add some contact solution to the tube and mix it up with the wand in order to avoid those nasty clumps.
 4. Sleep on two pillows instead of one. If you are waking up with a puffy face, sleep on two fluffy pillows instead of just one.  This helps drain the fluid out of your face leaving a puffy-free face  once you wake.
 5. Sleep with Vaseline on your feet. For everyone with dry, cracked feet apply some Vaseline or a heavy amount of  moisturizer before bed, put thick socks on, and go to bed with all of this on.
 6. Add cornstarch to your polish. Matte finishes are all over the nail world and can be all over your fingers as well. All you  need to do is add a little cornstarch to your clear polish.
 7. Spray bobby pins with hairspray. To avoid bobby pins falling out or just moving, spray a little hairspray on your bobby  pins just before you add them to your do.
8. Brush your lips. Brushing your lips with a toothbrush will exfoliate your lips, getting rid of any chapped skin remnants.
9. Heat your eyelash curler. By heating your eyelash curler you are shaping your lashes much like you would shape the hair on  the top of your head.
10. Match foundation to your neck. When shopping for foundation, make sure to match the shade to your neck NOT your cheek. This will give you the most natural look.
For more beauty hacks check out 19 Lazy Girl Beauty Hacks To Try Right Now or 32 Makeup Tips That Nobody Told You About
Discuss This Article
More Uloop Fashion Articles
UW OSHKOSH HOUSING LISTINGS
See all UW OSHKOSH Housing Listings
UW OSHKOSH Housing Listings
GET TOP STORIES DELIVERED WEEKLY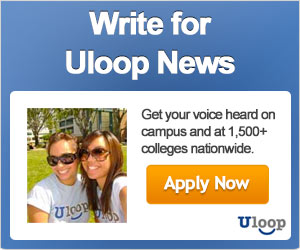 TOP COLLEGE NEWS