Post Classifieds
On Separation of Church and State.
     Oh, election time.  Nothing brings Americans together more than to fight and bicker over who the best person for president is…  But this topic goes further than that.  Any of you who read my article on the Chick-Fil-A debacle know that I am a Christian.  I am not afraid to say such things.  But I won't shove it in your face, or try to indoctrinate you by any means. That said, I am also a Religious Studies major at a state school, so I am gaining a decent knowledge of all sorts of religious backgrounds.  I love looking
at things objectively, scholastically, academically, and getting a new perspective on things like that.  So hear me out here.  Religion and politics.  Two of the most avoided (…or confrontational) topics in America.  So why not bring them together?  Should be fun!
We'll start with this: I believe that church and state need to be separate.  The main reason is pretty simple: they serve totally different functions.  Church is to act as a spiritual home, guide, whatever you want to call it.  State is to govern the peo
ple.  But further than that, the simple truth (sorry if this is a shock) is that America is not a Christian nation.  Believe it or not, we were not founded on Christian beliefs.  Yes, some founding fathers were Christians.  But they're the ones who separated church and state in the first place.  We are a nation founded on religious freedom.  That doesn't mean (as some might think), "you're free to be a Christian however you want to be!"  No, it actually means that you are free to do whatever you want regarding religion.  Christian, Hindu, Jewish, atheist, whatever.  Freedom.So, knowing that, I'll move into the more political aspect.  A lot of rather conservative Christians I've seen claim that by allowing "godless" things in our country, the government is forcing non-Christian things upon Christians, and that's not okay.
But I see it differently.  As someone pointed out on facebook, making something like gay marriage legal doesn't force anyone to marry a partner of the same sex.  Just because something is not illegal doesn't mean that everyone has to do it.  Conversely, though, making something illegal prevents someone from doing it.  Outlawing gay marriage or something like that because "it's not the Christian thing to do" forces non-Christians to live according to laws they don't believe in.  And I do not see that as okay.  Imagine if the tables were turned.  What if America was under the rule of a Hindu leader, who enforced the caste system, karma, rebirth, and the like.  I imagine Christians (and other non-Hindus) wouldn't like that too much.  Why is this any different?
Now, I will not disclose who I voted for, because it doesn't matter (the answer may surprise you, but like I said, it's irrelevant).  What I will say, though, is that, as a Christian, I am getting really sick of seeing people who claim the same religion as mine, up on their high horses, telling everyone what the Christian choice is.  It's not just a single person; I've seen Facebook and Twitter flooded with posts about how "Obama is leading America away from God!" and "As a Christian, Republican is the way to go!"
I want you to remember my reasoning behind separation of church and state.  It's not up to the leaders of our country to guide us into a spiritually correct state.  I'm pretty sure that's an individual thing, actually.
"But America needs saving!" you might say.  Well, I'll give you that, kind of.  America, as a democratic country, isn't what needs saving.  Americans, the people living here, are who need saving.  But you want to know something?  From what I've learned and seen, having someone try and force "salvation" (or any type of ideology or religion) onto someone else usually doesn't work.  Knowing that, electing officials who will try to force Christian doctrine into our laws and governmental system probably won't work either.
So what does this mean?  Well, I'm not entirely sure, actually.  I'm not telling you who you should have voted for, or where your political beliefs should line up.  What I am saying, though, applies to any Christians reading this.  Stop bringing religion into this!  Just stop.  I am not saying to separate yourself and voting from your God.  Separation of church and state is vastly different from separation of God and people.  But stop relying on your political leaders to "save America," or to "bring America back to Jesus."
You want to see a change in the dynamics of America?  You want to see more Christians?  Stop condemning our President and everyone who supports him.  Stop trying to scare people into Jesus by telling them they're all going to hell.  Start loving.  Get off your high horse and love people!
Now, I am just as guilty as anyone when it comes to sometimes feeling superior or however you'd like to look at it.  But I try my hardest not to judge anyone, and I will not condemn anyone for what they believe.  I realized a while back that doing that is simply not my job.  By trying to damn and condemn people, we've been playing God.  Not cool, guys.
So there you have it.  Stop trying to vote in politicians to save America.  Be the saving change you want so badly.  As Christians, we were given a pretty simple command: love God, love people.  That's that.
Discuss This Article
More Uloop Politics Articles
UW OSHKOSH HOUSING LISTINGS
See all UW OSHKOSH Housing Listings
UW OSHKOSH Housing Listings
GET TOP STORIES DELIVERED WEEKLY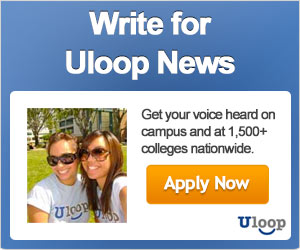 TOP COLLEGE NEWS